Refinancing student loans
Student loan debt can feel like a huge burden. And, rightly so. Perhaps there is some comfort in knowing that you are not alone in starting your life after college in debt. After all, nearly 45 million borrowers are dealing with student loans.
Currently, many federal student loan borrowers are wondering what happens when the current COVID-related payment relief evaporates in February 2022. The Biden Administration is looking at several different plans to ease the situation with various proposals. However, the reality is that, after almost 2 years of not having to make payments, many borrowers could be in for a rude awakening.
If you're trying to figure out how to handle the return of student loan payments it can make sense to consider refinancing. Let's take a look at student loan refinancing and what it might mean for your student loan debt.
What is student loan refinancing?
When you refinance student loans, you take out one large loan to pay off all of your smaller loans. Let's say you have 4 different federal student loans and 2 private student loans:
$5,500 (federal)
$6,500 (federal)
$7,500 (federal)
$7,500 (federal)
$7,000 (private)
$5,000 (private)
That's 6 different payments and 6 different interest rates. With student loan refinancing, you would get a loan for $39,000 and the lender would pay off all 6 of those loans. You would have one interest rate and one payment, making it easier to manage your debt.
In some cases, refinancing your student loans can result in a lower overall payment. Additionally, if you can get a lower interest rate, you could save money over time.
What is the difference between refinancing and consolidation?
It's important to understand, though, that student loan refinancing is different from federal loan consolidation.
Student loan refinancing is private. If you refinance your federal student loans, they are paid off and you no longer owe money to the government. Instead, you have a private loan.
Federal student loan consolidation only affects your federal loans. With this method, you combine all of your federal loans into one, with your average interest rounded up to the nearest ⅛ of a percent.
It's possible to refinance your private loans and consolidate your federal loans separately. In our example above, you could refinance $12,000 in private loans and then consolidate the $27,000 in federal student loans. While this still results in 2 payments and 2 different interest rates, it still streamlines the process a little bit.
You should also realize that if you refinance your federal loans, you lose access to federal programs and benefits.
You should also realize that if you refinance your federal loans, you lose access to federal programs and benefits. The current payment suspension applies to certain federal loans, so if you refinance your federal student loans, you could miss out on further federal payment deferments. Additionally, refinancing federal student loans makes you ineligible for Public Service Loan Forgiveness (PSLF) and for income-driven repayment.
Pros and cons of refinancing student loans
Pros
all of your loans are in one place, making it easier to manage
potentially lower interest rate, including much lower rates than some federal loans
could pay off loans faster and save money
Cons
must have good credit to qualify for private refinancing and get the best rates
lose access to federal forgiveness and income-driven repayment when you refinance federal loans
some lenders won't refinance parent PLUS loans
Pros and cons of federal student loan consolidation
Pros
get your federal student loans under one payment, making them easier to manage
maintain access to federal forgiveness and income-driven repayment programs
usually end up with a lower monthly payment, which is more manageable
Cons
your interest rate won't be lower
private loans can't be included
a longer repayment schedule and lower monthly payment can lead to paying more in interest over time
How to determine if you're eligible for student loan refinancing
Because student loan refinancing involves private lenders, the eligibility criteria vary. With a federal student loan consolidation, you just need to be in good standing with your loans. Everyone gets the same treatment, and there are no individual credit requirements.
When refinancing student loans, you need to be prepared for general and individual eligibility requirements.
First of all, you generally need to be done with school in order to refinance your student loans privately. Don't forget to check which kinds of student loans the lender is willing to refinance. Some lenders will let you refinance parent PLUS loans in your own name, but others won't allow it. Additionally, if you have private student loans with a cosigner, you might not be able to include those in your refinance, depending on the situation.
Next, once you understand the general requirements, it's time to review the specific criteria associated with private student loan refinancing. Lenders look at your credit score and income to make sure you're likely to make your payments. If you don't meet the qualifications on your own, you might be able to refinance if you have a cosigner.
Finding a cosigner can be difficult, though, because if you miss payments, they're on the hook. Be reasonably sure that you can keep up with your new payments before you try to find a cosigner.
When should you start thinking about refinancing student loans?
Refinancing can make sense if you're starting to feel overwhelmed by different payments. If it's hard to keep track of all your payments, and if you're having a tough time trying to meet all of your minimums, refinancing might make sense.
It might also make sense to refinance student loans if you can qualify for a lower interest rate. Let's say you have $12,000 in private student loans and an APR of 5%. Your monthly payment would be $127 per month. If you refinance to a 2.3% APR and extend the term to 15 years, you would pay $79 per month — and save $1,073 in interest over the life of the loan. This improves your monthly cash flow while saving you money.
For those with federal student loans, it can make sense to consider consolidation if you're feeling overwhelmed.
For those with federal student loans, it can make sense to consider consolidation if you're feeling overwhelmed. Most student loans start out on a standard repayment plan of 10 years. If you have several loans with payments of $200 apiece, it can start to feel unmanageable — especially since you might have different servicers. Consolidation allows you to extend the repayment period to up to 30 years, reducing your monthly payments to something that's affordable. Plus, you only have to worry about one servicer and one payment.
However, it's important to note that you won't save money on a consolidation. Instead, it is likely that you end up with a slightly higher average rate and the extended repayment period can lead to paying much more in interest over time. On the other hand, you can have improved monthly cash flow, which may allow you to meet other goals.
What about refinancing federal loans?
While some borrowers find it makes more sense to keep private and federal loans separate, there are situations in which it makes sense to refinance federal loans.
If you don't expect to need an income-driven repayment plan or PSLF, refinancing can save you money over time. If you're certain you won't need these federal programs, and your main goal is to save money on interest, refinancing can be a good fit if you have adequate income and good credit.
Consider the $39,000 total in private and federal student loans. Federal loan rates are generally higher, so you might have an average APR of 6.5% across your private and federal student loans. Refinance that to 3% APR, and things change.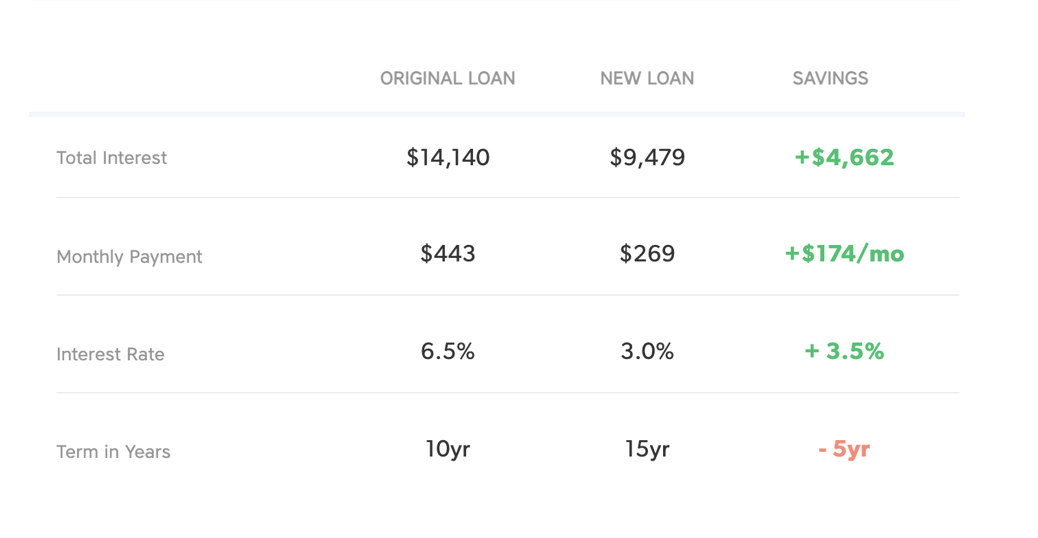 Even though the term is longer, you save more than $4,600 in interest and you improve your cash flow by $174 per month.
Before you refinance, though, consider your situation and make sure you're willing to give up the potential federal protections and access to forgiveness.
How to refinance your student loans
1. Decide which loans to refinance
Determine which loans you want to refinance, whether it's private, federal, or federal plus private. Know the dollar amount of your refinance.
2. Research lenders
Find out which lenders refinance the loans you have and find out what their terms are. Figure out which lenders offer the options and terms you need.
3. Get a few quotes
Many lenders will provide you with refinancing quotes without checking your credit. Get between 3 and 5 quotes to see what's available.
4. Fill out your application
Once you choose a lender, fill out the official application. This will result in a hard credit check, which could potentially lower your score by a few points. It can take a few days to be approved.
5. Review your loan terms
After you're approved, review the terms and double-check which loans will be paid off. Your lender will likely directly pay off your loans, so make sure the account numbers and payoff information are accurate.
6. Follow up to make sure the old accounts are closed
Finally, confirm that your old accounts are paid off and closed. Verify that you no longer need to make payments.

What about federal loan consolidation?
With federal loan consolidation, all you do is log into your Federal Student Aid account and navigate to the Direct Loan Consolidation application. From there, you select which loans you want to consolidate and choose a servicer from the drop-down menu. You can research the servicers ahead of time, but you won't receive quotes and your terms will depend on the plan you choose.
FAQ
What types of loans can be refinanced?
Any type of loan that the lender accepts can be refinanced. This includes private and federal loans, including parent PLUS loans. Double-check with the lender.
When should I refinance?
Refinancing is a personal decision based on your individual needs and financial situation. Carefully consider whether refinancing makes sense for you in terms of saving money on interest, lowering your monthly payment, and potentially getting out of debt faster.
How do I refinance a loan?
Apply for refinancing through a lender that offers student loan refinancing. You will need identifying information like a Social Security number, as well as income information. Check with the lender to find out what documentation is required.
What should I look for in a lender?
Think about your individual needs as a borrower and look for a lender that offers what you need. Consider the loan types the lender refinances, whether they have a hardship program, if you can get a cosigner release, and the different options they offer.
Meet our financial expert
Meet our financial expert
Miranda Marquit, MBA, is a freelance financial writer and money expert. Her work has appeared in multiple media outlets, including Marketwatch, NPR, Yahoo! Finance, Entrepreneur, Forbes, and more. In addition to writing about money, Miranda is also an avid podcaster, contributing to the Money Talks News weekly podcast. She lives in Idaho, where she enjoys hiking, traveling, playing board games, and spending time with her son.