How to become a licensed professional engineer (PE)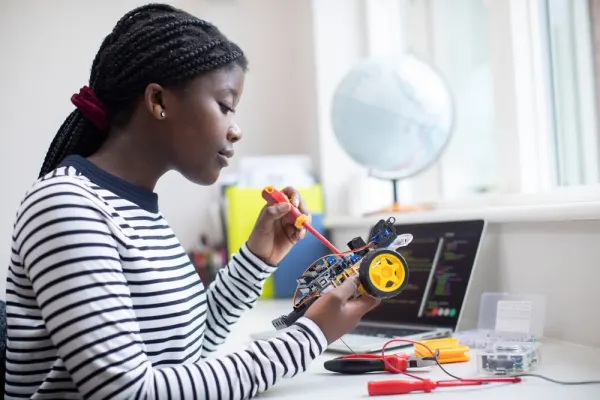 You have earned your engineering degree. Why bother with a license? While licensing is optional, and many engineers do not pursue it, becoming a licensed professional engineer has many benefits.
Does an engineer need a license?
In most cases, you do not need a license to be a practicing engineer. In the U.S., only about 50% of all engineers are licensed. However, having a license gives you a tremendous advantage. It makes you eligible for a wider range of positions, allows you to perform more duties, and tends to lead to higher pay.
To earn your license, you sit for the Fundamentals of Engineering (FE) and Principles and Practice of Engineering Exam (PE) exams. Both are challenging. In fact, the PE is so challenging that participants only qualify to take it after 4 years of work experience under the tutelage of a professional engineer.
The FE exam
The FE exam is taken in your final months of college or shortly after graduation. A few states still permit students without an engineering degree to take the FE, but that number is dwindling.
Most engineers who take the FE do so within 12 months of finishing their bachelor's. That way, the information learned at college is still fresh in their minds. The exam is categorized by discipline. You take the test that aligns with your specialty.
The 7 FE categories are:
chemical
civil
electrical and computer
environmental
industrial and systems
mechanical
other disciplines
The last category on this list (other disciplines) is for engineers who haven't yet decided on a specialty or whose focus is on a more obscure engineering discipline, not covered by the other 6. As a result, it features general-knowledge questions that are suitable for all engineers. As far as popularity goes, more applicants sign up to take the civil engineering exam than any other, with mechanical engineering as a close second.
Once you pass the FE exam, you earn the Engineering Intern (EI) or Engineer-in-Training (EIT) credential.
FE exam essentials
The FE exam is available year-round through 4 different testing windows. The following are key features of the exam:
participants have 5 hours and 20 minutes to finish
a 6-hour appointment time is allotted to allow for the signing of the non-disclosure agreement, opening tutorial, timed break, and ending survey
the exam comprises 110 multiple-choice, computer-based questions
the questions are graded pass/fail
you can expect your results within 7 to 10 days
How much should you study for the FE exam?
Many sources recommend taking 3 to 6 months to prepare for the FE exam, studying about 5 hours per week. It may be much easier to take the FE while you are still an undergraduate student or shortly after, when the knowledge and study habits from college are easy to recall.
Tips for passing the FE exam
To give yourself the best chance of passing the FE exam, choose the discipline that most closely aligns with your degree. The pass rate across the board is 71%, and falls to 35% for repeat test-takers.
Fortunately, there are several free sources to help you prepare for this exam, including:
There are also many paid prep courses you can enroll in to help you prepare.
The following are key tips for passing the FE exam:
allow yourself sufficient time to study
sit for the FE shortly before or after you finish your bachelor's
come prepared to pass on the first attempt
consider a prep course
get a good night's sleep before the exam
take a practice test before the real thing
KEY TAKEAWAY
The FE exam is the first step towards engineering licensure. It is taken shortly before or after finishing a bachelor's degree in engineering. It is offered in 7 engineering disciplines, and students take the version that corresponds to their college major. The test is challenging but has a 71% pass rate. Many students enroll in prep courses to help them study for the FE. 
The Principles and Practice of Engineering (PE) exam
Sitting for the PE exam is the final hurdle in earning your license as a professional engineer.
To take the PE, you need:
a 4-year ABET-accredited engineering degree
a passing grade on the FE exam
4 or more years of professional engineering experience
States have specific requirements about where and how you should earn your 4 or more years of experience. This usually includes being supervised by a licensed engineer and being in a role that involves increasing levels of responsibility. If your degree is in a field other than engineering, you may need 8 years of experience instead of 4.
Roughly 65% of engineers who sit for the PE pass on the first try. This challenging exam is offered once or twice per year, depending on your discipline.
There are 17 disciplines available for testing, including:
architectural
industrial and systems
control systems
chemical
mechanical
agricultural and biological
mining and mineral processing
metallurgical and materials
petroleum
naval architectural and marine
civil
environmental
electrical and computer
fire protection
nuclear
software
structural
The PE Architectural has the highest first-time pass rate. In contrast, the PE Structural has the lowest. It is also interesting to note that more engineers sit for the PE Civil than any other discipline. Additionally, 3 disciplines are tied for the highest first-time pass rate – agricultural and biological engineering, fire protection, and metallurgical and materials. The lowest first-time pass rate is for electrical and computer engineering.
PE Exam Essentials
The PE exam usually takes 8 to 9 hours to complete and costs between $350 and $375. Much like the FE procedure, extra time is allotted for participants to read and sign the non-disclosure agreement, take the tutorial, and have breaks. The PE exam varies by discipline, with some tests having more questions than others. Sometimes, this exam is computer-based. Other times, it's a pencil-and-paper process. Tests that are still administered using pencil and paper include:
architectural
civil
control systems
metallurgical and materials
naval architecture and marine engineering
Computer-based tests are usually scored within 7-10 days, while traditional tests may take up to 10 weeks. All tests are graded as pass/fail.
Decoupling the PE Exam and experience requirement
Decoupling occurs when an engineer takes the PE before earning 4 years of experience. Then, if they pass the exam, they are granted licensure upon completion of those 4 years. Not every state allows this practice. Check with your state's board for professional engineers to learn more about local requirements. Note that the more real-world experience you have, the easier it may be to pass your PE exam, so decoupling may not be in your best interest.
Tips for passing the PE exam
There are many ways to prepare for your PE exam. Most important among these is having adequate work experience. Beyond that, studying and preparing for the exam are highly recommended.
Free sources of information include:
Here are some other helpful preparation tips:
keep a notebook of your day-to-day work experiences
pick the brain of a professional engineer who has passed the test
sign up for a paid prep course
take the test as soon after you have earned your experience as possible
KEY TAKEAWAY
The most important factor to keep in mind before the PE exam is that preparation is everything. Make sure you know what to expect on the day of the test. You can do this by studying the NCEES website and by talking with other professionals who have sat for the test.
Becoming a licensed engineer
Overall, the path to licensure is not easy, but is definitely worth considering. To become a licensed professional engineer, you need:
a 4-year degree, preferably in an engineering discipline
a passing score on the FE exam
at least 4 years of experience working under a professional engineer
a passing score on the PE exam
Once you can prove you have met all the necessary requirements, submit your application and required documentation to your state's board of professional engineers.
Explore the top-ranking engineering programs to make an informed choice.
Why should you become a licensed engineer?
Many engineers earn a profitable living without ever pursuing a license. However, some doors won't open without that piece of paper. The following tasks can't be performed without an engineering license:
working as an engineer for the U.S. government
becoming a private contractor
consulting
preparing, signing, sealing, and submitting engineering plans
serving as an expert witness in court
advertising engineering services to the public
teaching upper-level engineering classes (some states)
Still unsure whether you need an engineering license?
You can have a wonderful career and earn a good living as an engineer without the hassle of ever sitting for the pricey and difficult licensing exams.
Your decision on licensure is likely to depend on which engineering field you specialize in. In some fields, such as computer engineering, licensure is not as common or useful as in others. In other fields, such as structural and civil engineering, it may be very difficult to find employment without a license, as these roles involve the safety or health of the public. In these cases, it is certainly worth pursuing a license, so that nothing holds you back from the goals you have already worked so hard to achieve.