Esq. vs J.D.: Which legal career path is best for you?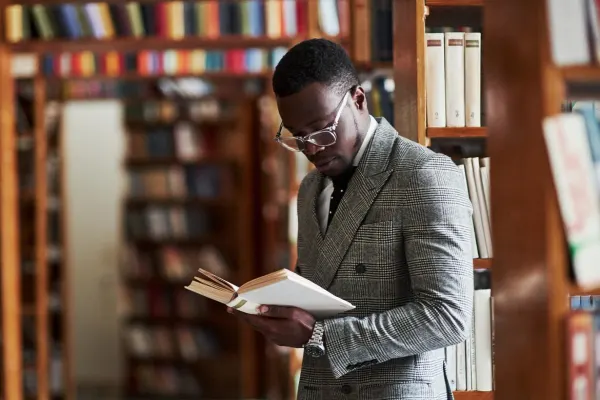 Whether you're an ambitious high schooler daydreaming about the future or a recent graduate researching a legal career path – deciphering the complexities of law degrees and their respective titles may leave your head spinning.
The good news is that you can find the answers to all of your burning questions in our legal education and career guide. But for now— let's discuss the difference between the J.D. and Esq. titles, and how you can obtain them.
Difference between J.D. and Esq.
The major difference between Esq. and J.D. is that the first is only a title and the other is a degree that is sometimes used as a title.
Esq. is short for Esquire, and the abbreviation is appended to a practicing attorney's surname after they pass the bar examination. J.D. stands for Juris Doctor degree — anyone who graduates from law school can claim this credential.
Regardless of whether you stop at getting your J.D. or take the next step to earn the title of Esquire, there are numerous legal career paths you can pursue.
J.D. Or Esq.: which law degree is higher?
Esq. is a title that's considered to be 'higher' than a J.D.
Many people use the titles Esq. and J.D. interchangeably, but this is a bit of a misnomer since the terms belong on opposite ends of the legal spectrum.
The J.D. is a foundational law degree that students must earn before they are allowed to take the bar exam. Earning this degree typically takes 2 to 7 years. Once they've completed the J.D. program, law students can pursue more advanced degrees like the:
Master of Laws (LLM)
Doctor of Juridical Science (SJ.D)
Master of Legal Studies (MLS).
Master of Dispute Resolution (MDR)
What is J.D.?
J.D. is an acronym that stands for Juris Doctor degree or Doctor of Jurisprudence. It is a graduate degree that law students in the U.S. must earn before taking the bar examination and earn the right to share legal advice professionally.
The only exception to this rule is in states that allow future lawyers to get their education through law apprenticeships rather than a formal program.
The only states that currently allow learners to become lawyers without attending law school are:
California
Virginia
Vermont
Washington
Pros and cons of a J.D. degree
You need to get your Juris Doctorate before you can practice law or pursue more advanced legal degrees, but earning a J.D. is not the only option for learners who hope to start a legal career without becoming an attorney. If you plan to work closely with attorneys or law enforcement, you might prefer to obtain an MLS. Or if you'd like to work in arbitration and conflict resolution, earning an MDR might better suit your needs.
Below are some of the main pros and cons of earning a J.D. degree.
Juris Doctor degree program length
Students who pursue their J.D. full time can expect to complete a minimum of 87 credit hours over 3 years. Some law schools also offer part-time programs, which may take up to 5 years to complete.
J.D. program coursework
The coursework of a J.D. program is designed to equip you with the technical and practical skills necessary for success in whichever law career you choose.
First-year (1L) coursework
First-year law students typically take general studies courses and learn legal fundamentals before selecting a professional track or distinction.
Aside from standard 1L coursework, students usually participate in moot court — a trial simulation competition — and enroll in elective courses.
Coursework that J.D. students may encounter includes:
Civil procedure
Constitutional law
Contracts
Criminal law procedure
Legal assistant
Legal research and writing
Paralegal
Property law
Tort law
Second- and third-year (2L and 3L) coursework
In your second and third years of law school, expect to attend seminars, clinics, and to participate in extracurriculars and networking events to bolster your resume and get real-life experience.
The coursework typically includes a mix of hands-on learning, writing and research, bar prep, and advanced electives.
Career opportunities for law students
Just because you decided to get a J.D. doesn't mean you have to practice law.
Based on your unique skill set and interests, there are numerous career paths available that don't require you to take the bar exam. Likewise, if you want to take more time to study or need to retake the test, these jobs can help you gain experience while you prepare:
Legislative analyst
Human resources specialist
Court officer
Lobbyist
Politician
Compliance officer
Executive director
What is Esq.?
Esq. is the abbreviation for Esquire. It is a title that follows an attorney's last name to show that you've obtained your Juris Doctor degree and have also passed the rigorous bar exam.
The formatting of this title is similar to an M.D., B.A, Ph.D., and other professional degrees that warrant listing an abbreviation after your surname.
How long should you study for the Bar?
Expect to spend 400-600 hours studying for the bar exam.
While this may seem like a shocking number, it becomes much more manageable if you break down your study time into chunks and create a schedule. If you study 40-60 hours a week for about 3 months, you can consider yourself well-prepared for the bar exam.
The cost of the bar exam can range from $150 to $1,500, depending on which state you plan to practice. If you can't study full time due to other responsibilities, don't be afraid to take the test a bit later. The test is infamously hard to pass, so you need to be prepared.
Is it hard to pass the Bar?
According to the National Conference of Bar Examiners (NCBE), the overall pass rate for all reported jurisdictions during the 2022 bar exam was just below 52%.
Utah performed the best with a 72% overall pass rate, and California performed the worst with a 34% overall pass rate.
How to study for the Bar Exam
"Take as many practice tests as you can find. Reading, preparing outlines, and making flashcards can only get you so far. Forcing yourself to take full tests – both multiple-choice [questions] and writing out essays – will give you the best shot at passing the bar," says Laurie Rowen of Montage Legal Group, who earned her J.D. in 2004. She has since co-founded the Montage Legal Group and become a respected legal ethics speaker.
Below are some other things you can do to give yourself an edge on the bar.
Take bar review courses during law school.
Follow a strict study schedule.
Diversify your study strategy and actively commit information to memory.
Familiarize yourself with the Multistate Bar Examination (MBE) or the Uniform Bar Examination (UBE) format.
Take the practice tests your state shares online.
Invest in high-quality test preparation materials.
Practice healthy living and self-care.
Plan for your career after you pass the Bar
Once you pass the bar exam, you can officially become a practicing lawyer and offer legal advice. If you decide that's not the right fit, you can still use your law degree to pursue other passions.
Rowen says, "Most lawyers enter law school and their first law firms expecting to climb the corporate ladder and become partner. While making partner is a satisfying career path for some lawyers, many find that they are happier when they take control of their own life by starting their own solo law firm, working in-house, becoming a freelance lawyer, working for a start-up, or combining law with another passion. There are an unlimited number of ways to use a law degree and also have a balanced, happy life."
Career opportunities for Esquires
Some common law jobs Esquires choose to pursue include:
Magistrate
Prosecutor
Attorney
Mediator
Legal Consultant
Which law degree is right for you?
Before selecting a law degree, decide what you want to do with it to ensure it matches your career goals.
The law degree you choose may depend on your interests, and whether you plan to practice, teach, conduct research, or use your degree in some other way. Law degrees you can earn include:
Juris Doctorate (J.D.): This is the most common law degree in the United States and is a must-have for students who want to become practicing attorneys.
Master of Laws (LLM): This is a top choice for students who want to specialize in 1 area of law, spend less time in school, and boost their earning potential.
Doctor of Juridical Science (SJ.D): This is the highest-level law degree and is best for people who want to work in research or education.
Master of Legal Studies (MLS): This degree is an alternative to the J.D. It is for students who need to understand the law, but don't want to be an attorney.
Master of Dispute Resolution (MDR): This is the perfect degree for anyone who plans to work as an administrator, arbitrator, or mediator.
Expert advice for law students
Becoming an attorney is no small feat. First, you have to get your Bachelor's degree, score well on the LSAT, get into law school, make it through the J.D. program, and finally pass the bar. To help you make the most of this experience with the least stress, follow these 4 tips from industry experts who have already gained their J.D. degree and passed the bar.
1. Find the right law school for you
There are a lot of considerations prospective law students need to take into account, beyond the obvious things like bar passage rates and post-grad employment rates. Do your research and apply to schools with supportive faculty and resources for students.
"You also want to look at the median salary [of graduates] because you don't want to take out 3x more in loans than the average median starting salary for any law school," says Sydney Montgomery, CEO of S. Montgomery Admissions Consulting, the cofounder of the College Equity First non-profit, and a member of the National Association for College Admission Counseling.
2. It's okay to not know everything
Make the most of your educational experience by knowing when to ask for help, and try not to feel down if you don't understand something. Law is a competitive field, which is why it's even more important to know when to ask for additional information or resources.
"Saying 'I don't know' to a cold call in class or asking classmates for help made me stronger as a person and a legal scholar. When you pretend to have all the answers, you actually block yourself from learning the truth," says Montgomery.
3. Start networking early
Start networking right away. The connections you make in law school may help you for years to come. Networking is also a skill that can bring you business and retain clients in the future.
"While I remember hearing the advice from many attorneys and mentors in the business world, prior to starting my legal education, I never fully understood how truly important it was to start networking from day one," says Rowen.
4. Be flexible and define success for yourself
There are endless career opportunities for law students. If at some point, your original plan no longer aligns with your goals or you're going through significant life changes, you can always pivot to another area of law or an entirely different field. You might even start your own business or experiment with freelancing.
"I learned that only you can define what a successful path is for you. And sometimes it is necessary to allow your path to change from your original plan. No matter what, there will be people that have expectations about what you should become, who you should be, and how high (or low) your aspirations [ought to] be," says Montgomery.
Attorney Laurie Rowen shares this sentiment, "Many lawyers choose to work on a freelance basis while raising children or starting a new business, and are able to keep up their legal skills, enabling them to go back to a traditional way of practicing law if and when they are ready."
Should I go to law school?
A legal career path is a great choice for anyone seeking a lucrative, fast-paced, and high-paying career that allows them to make substantial changes in people's lives and the world.