How to make college more affordable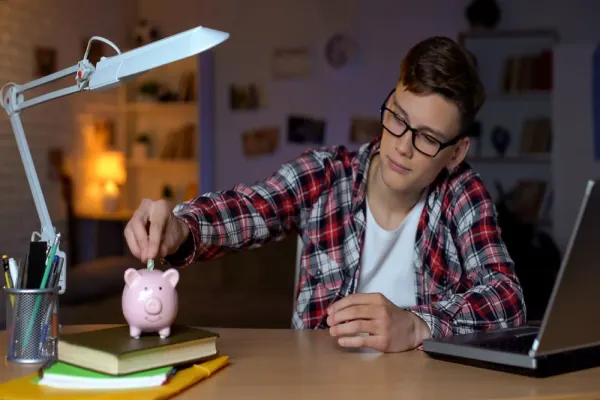 Whether you are a student preparing for college or a parent helping your child choose a program, the cost should not be a reason to give up on higher education. Although the rising fees can be intimidating, there are plenty of ways to save money in college, earn a little extra, and find additional funding to cover expenses. As you map out your plan to pay for school, be sure to take advantage of these financial tips for college students.
Consider community college
Even after deciding on a major, the first 2 years of college are generally spent fulfilling general education requirements. Instead of earning those "undeclared" credits at an expensive university, consider spending your undergraduate years at community college.
Attend community college and you can transfer to a university once the 2 years are complete. More and more community colleges are beginning to offer 4-year degree programs, perhaps the most economical way to earn a baccalaureate degree.
The average tuition at an in-district community college is $3,400, whereas at a private 2-year institution, it can be as high as $25,000, and that figure does not consider on-campus housing costs. If you are looking to make college more affordable, attending a community college can save you tens of thousands of dollars.
» Read: Value of a community college baccalaureate
Attend an in-state college
Many prospective college students want to get as far away from their hometown as possible. While this is understandable, be aware that students who study at public college in their own state receive reduced tuition fees.
There are many excellent public schools where the educational investment is paid back relatively quickly. Combine this with the discounted tuition for in-state students, and the financial benefit becomes almost too great to ignore.
The average out-of-state tuition fee for 4-year bachelor degree is $26,382. Study the same degree in-state and it will cost you around $9,212. Staying closer to home suddenly seems more appealing, right?
Even if you do not want to study in-state, it can be beneficial to prioritize public institutions when researching potential colleges. Public schools are can often afford lower tuition rates because they are funded by the state.
Choose to live at home
Study in-state or at a local community college and you can live with your parents, massively reducing the potential cost of college. While it might not be the coolest move to live with your folks, you'll save money on rent, food, and other essentials such as laundry and travel costs.
Live at home and you can continue with the part-time job you had at high school, allowing you to save and earn money at the same time. While you might not be able to fully embrace campus life, the lack of distractions can also lead to better academic results.
If you want to live at home but find the in-state and community college options unappealing, consider online programs. Distance learning is becoming increasingly popular, and many employers see no difference between an online and in-person degree.
Choose an affordable school
Some students fail to realize that when it comes to cost, not all schools are created equal. An obvious way to save money in college is to choose one of the more inexpensive colleges. This doesn't have to mean attending a substandard institution – the correlation between how much a college costs and the value it provides is often skewed.
If you are looking for the best affordable colleges this list is a great place to start. It compares the cost of the college degree to the eventual earnings it provides.
Try to get into a fast-track program
Accelerated programs allow students to finish the curriculum in 3 instead of the usual 4 years. This may mean a more difficult workload, but it significantly minimizes the cost of education. If you are diligent enough to keep up with the work, the savings make it a wise choice. Plan ahead and you can even reduce the increased academic load by utilizing advanced placement (AP) credits.
Advanced placement (AP) credit options
AP courses are usually taken in the 11th or 12th grade of high school and include standardized exams. With AP classes, you not only receive college credits, but also qualify for more advanced classes when your degree begins. Being able to skip foundational college courses can translate to early graduation and reduced tuition fees.
As is the case with most cost-cutting activities, preparation is key. If you are a high school student, seriously consider increasing your AP courses today.
Apply for scholarships and grants
This might sound obvious, but did you know that there are a number of different scholarships and grants to help make college more affordable?
You can receive a scholarship based on your academic performance, your athletic skills, your ethnicity, your hobbies, and your household income. You can apply for federal, state, and private scholarships, or enter scholarship giveaways online – with different creative ideas such as wearing an outfit made from duct tape to your prom.
Some college financial advisors encourage students to apply for as many scholarships and grants as possible, even if they don't meet the requirements. You might be surprised how many students apply for scholarships they don't qualify for, but they receive the money anyway, because no one else applied.
Though there are national scholarships available, applying for local ones may be easier since the pool of applicants is smaller. Consult with your high school guidance counselor or check with the local university or college to see if such programs are available. Since the responsibility of finding scholarships falls largely on the family, parents can help their children by researching scholarship opportunities.
» Read: Tips for writing a standout scholarship essay
Get a part-time job or participate in a work-study program
While a part-time job alone is not going to pay for college, it can provide some much-needed extra income to support your studies.
You can work before or after class, providing the job doesn't interfere with your coursework. The general rule is that anything more than 20 hours a week is too much for a full-time student. Some schools even cap the time that students can work at 10-15 hours.
If you are worried about not being able to pay for college, be sure to take advantage of your vacation time. There are a range of summer jobs available to college students, some of which are very well paid.
Another option is to participate in the Federal Work-Study Program, an initiative overseen by the U.S. Department of Education. Eligible students work jobs in which the hours are designed to fit around their studies. Typically, these positions are on campus; for example, tutoring or college administration roles. If you are interested in participating, simply check "yes" on the work-study question when filling out the free application for federal student aid (FAFSA)
Become a Resident Assistant (RA)
An RA is hired by colleges to serve as a mentor, guide, friend, and voice of authority for students living in on-campus dorms. Many students are able to cover their room and board charges by working as an RA.  Not only does this job pay, but it adds a unique experience to your college life and gives you the chance to make a difference in the lives of other students.
» Read: 5 ways to make the most of your college years
Live within your means
Small day-to-day choices can also add up to significant savings. For example, textbooks can easily cost $700 a semester. To minimize the cash you spend on college textbooks, rent your books, share with a friend, or buy PDF versions online.
When you focus on putting together your student budget, you will begin to notice opportunities to save money everywhere. Find out what student discounts you are entitled and use them. Ride a bike to college rather than taking the bus. Avoid extravagant purchases by asking yourself whether you need something or just want it.
Final thoughts on how to save money in college
Although college costs can feel overwhelming, there are plenty of steps you can take to cut expenditure and save money. The dollar-stretching strategies in this article are by no means exhaustive, so be sure to research alternative ways to pay for college. Also, check you understand all the different types of financial aid available, as these can make paying for college far more achievable.