Switching careers as an experienced professional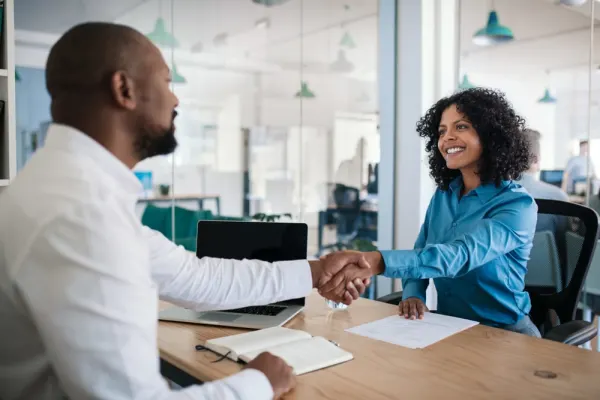 What is a career change?
Does your job make you feel trapped? Are you in a role not aligned with your talents? Have you stopped enjoying your work? If yes, it may be time for a career change.
A career change is simply defined as a process where a professional transitions to a different career path. It is usually underpinned by a need or desire to shift to a different job, function, industry, employer, or employment type.
Changing careers can be time-consuming, effort intensive, even frustrating if you don't have a sensible plan— all reasons many professionals stay in a line of work that doesn't really suit them. This article dispels the confusion around career changes to help you decide whether you need one and, if so, how you can go about finding the best career for you.
Career change types
Due to the uniqueness of individuals and their specific career paths, career changes also need to be viewed and planned for on an individual basis. Although, in general, career changes fit into one or more of the following categories.
Role change
Assuming additional responsibilities, getting promoted, or moving to a different employer are all examples of moving to a different job. While these moves are not typically classified as proper career changes, some role changes are more significant. For example, a software engineer who is a technical expert may be looking to move to a management position, where they focus on business responsibilities.
Job function change
Your job function defines the nature of your role. HR people are on a mission to find, attract, and retain top talent. Finance professionals work on keeping a business profitable. If you work in a product team, then your job is to create and continuously improve the products or services of the company you work for.
If you feel that there is a mismatch between your strengths and your job function, you can start by exploring different sub-functions.
If you feel that there is a mismatch between your strengths and your job function, you can start by exploring different sub-functions. For instance, if you are in HR, you could move from a business-facing HRBP role, which focuses on relationship management, to a back-office role, focusing on people systems and processes. While this is still classified as a change, it is not a major one. However, if this doesn't suit you either, you may have to transition to a new function, which constitutes a full-blown career change.
Employer type change
Many job changes are internal. Sometimes, new management might have different cultural or stylistic differences with employees. Many  professionals change employers at least a few times throughout their careers. A move to a similar business constitutes a minor change to your career, while professionals looking to work with a different type of organization may face a major career change.
For example, Harry has corporate experience. After finding out that he thrives in ambiguous, fast-paced environments, and flat hierarchies, he hopes to move to a start-up. On the other hand, Jenny has worked with start-ups and scale-ups but now wants the greater stability and structure of a large organization.
Industry change
While some jobs are industry-agnostic, the sector you are in always influences your experience as a professional. For example, a product manager for a manufacturing company has a very different job from one working for a software provider.
When talking about supporting functions, like HR or finance, the difference between how each industry operates can have a significant impact on your job.
When talking about supporting functions, like HR or finance, the difference between how each industry operates can have a significant impact on your job.
If you feel that your current industry is no longer exciting, or that it offers limited opportunities, perhaps begin your career change search by looking into other industries that share some similarities. For example, if your background is in financial services and you want to break into technology, fintech may be an appealing option. However, if a major sector change better suits your needs, don't be afraid to go for it. At the end of the day, there may be many transferable skills that you can bring to your new career.
Employment type
Do you prefer the independence of being a contractor, or the stability of being a permanent employee? While the terminology and concepts may differ slightly based on the employment legislation in your target geography, there are 2 high-level types of employment: permanent and contracting. Although transitioning to a new employment type is not the most challenging career change, it does require considerable research and planning.
Career change best practices
Know that the success of your exploration into a career change can depend on the process you adopt. As a career strategist and ex-recruiter, I share the key steps based on best practices to improve and expediate this process.
1. Defining your goal
First, while you may be ready to pull your sleeves up and start job hunting, please don't. Even if you know you need a change, take the time to understand your options and make an informed decision about your next step. The more specific the goal, the higher your chances of success, so this is a critical exercise.
I suggest defining your goal by considering the following criteria:
Issues: things you don't like in your existing career. Examples could include a heavy focus on administrative work or frequent traveling.
Desires: things you would like but don't have. For example, a more strategic role, working with an employer who champions diversity and inclusion, or having a higher salary.
Strengths: things you are good at and enjoy. For example, Megan thrives in competitive environments and likes sales.
Long-term career goals: you can set these goals based on your desired long-term lifestyle, such as a 6-figure salary and a remote job.
Short-term career goals: these should be derived from your long-term goals. After you have set your endpoint, each step should enable you to get closer to it.
External factors: Setting career goals in a vacuum is not a great idea. After you have penciled some options on paper, don't forget to future-proof your plan by considering industry and job prospects.
2. Validating your goal
After identifying your potential target job, I recommend taking it one step further. This step is all about turning to your network to gather more information and validate your goal before putting your job search plan into action. This can be done by addressing the following steps:
Reach out to people who have relevant experience from your network. Friends, family, and colleagues should be your starting point.
Try to get introductions to people in their network who may be able to help you in your job search. Linkedin is a great tool for these sorts of introductions.
Your ideal target audience is industry experts, employees working with your employer of choice, and people who have experience in your target jobs.
When you manage to get through to the right people, ask them for advice on how to land your target job
3. Strategize your job search
Before you start applying for jobs, make sure you are ready to win. Let me tell you a secret: recruiters and hiring managers are risk-averse creatures. Therefore, they aim to hire someone as close to their vacancies as possible, which may not necessarily be ideal for career changers. Let's see how you can evaluate where you stand and fix any issues that may knock you out of the race.
The following steps can help you understand the requirements you have to meet:
Select 3 vacancies that represent your ideal next step. Analyze their job descriptions focusing on the duties, responsibilities, and requirements sections.
Similarly, choose 3 employers that you would love to work with. Gather information about their requirements using their website, professional social media, and employee review platforms, and internalize this information to pull out during your potential interview.
Lastly, consider important industry skills. You can identify these using industry publications, although your list may be already complete from prior conversations with industry experts.
4. Fill in the gaps
After listing all requirements, it is easy to identify any gaps. Any major gap may block you from landing your dream job, so it is important to bridge these gaps to maximize your application success rate. Consider the following scenarios:
You have the required experience, skills, and achievements, meaning there is no gap. However, this would be uncommon when it comes to a career change.
If your background is relevant but in a different context, you can use your transferable skills as a basis. To do this, focus on tailoring your message to your target audience by emphasizing certain parts of your experience and omit others.
If you discover areas where you don't have the required level of experience or skills, explore degrees, certifications, and other courses to demonstrate commitment to the domain and get relevant hard skills. Then, look for opportunities to start building your experience during your job search, such as freelancing, shadowing, and internships.
» Read: Tips to find and land a new job
5. Create job search content
They say that luck happens when preparation meets opportunity. This is true when it comes to career changes. To maximize your success rate, put the below deliverables on your list.
Resume
Make sure your resume is succinct, professional, up-to-date, and when possible catered to specific roles.
Cover letter
While not always necessary, it is highly recommended. A well-written cover letter can be an excellent way to outline your motivation for the job and rationale for the application.
References
Line up professional references willing to speak with hiring managers and explain how great you are.
LinkedIn profile
Not having an optimized LinkedIn profile is a missed opportunity. Start by adding the right keywords to increase relevant traffic through SEO. Then, build in relevant concepts to convert visits to meaningful relationships.
Networking pitch
Develop a networking pitch that summarizes the key value you add in no more than 30 seconds.
Go boldly
Once you have built your narrative, you are ready to get out there, create your digital footprint, network, and apply for jobs. I suggest a diversified job search approach for maximum results. Remember, your dream job is out there looking for you.