Which teachers are most in demand? A look at shortages, job openings and pay by subject and state
In 2016, the UNESCO Institute for Statistics estimated that by 2030 the world would need 69 million new teachers to provide quality universal primary and secondary education. Since then, the COVID19 pandemic has wiped out 20 years of educational gains. An additional 100 million children have fallen below minimum reading proficiency levels as a direct result of the pandemic.
Here in the U.S. specifically, demand for teachers exceeded supply for grades K-12 in the country's public schools by more than 100,000 for the first time ever in 2019. Further studies show that the problem is set to worsen, with nearly 1 in 3 teachers saying that the pandemic has made them more likely to resign or retire early.
Thus, there is currently demand for teachers at all levels of the education system. This includes:
To help decide whether teaching is the right career for you, this article looks at which subjects are most in demand, which states most need teachers, and how pay for teachers compares across America.
Is teaching the career for you?
If you're a kind, caring, and empathetic person who is passionate about a subject or helping children, then a career in teaching may suit you.
The skills you require will depend on the role you take on. This is because the needs of a child in elementary education are not the same as those of seniors in high school. However, to excel as a teacher, you'll generally need:
academic achievements (at least a bachelor's degree)
great communication skills
excellent organizational skills
a desire to bring out the best in people
a willingness to take on responsibility
passion, resilience, and energy
a willingness to adapt to new challenges and environments
If you'd like to pursue a career in teaching, a number of degrees and programs are available to help you get the qualifications you require. What teaching jobs are in demand the most, and what's the job market like across America? Let's take a detailed look at the most needed teachers by subject and state.
Teacher shortages by subject
Although individual states have different levels of demand in each subject, several high-need fields appear on the nationwide list. They include:
mathematics
science
foreign languages
bilingual education
English language acquisition
special education
Why are we currently experiencing a teacher shortage in these areas?
In a 2019 assessment by the Programme for International Student Assessment, students from the U.S. performed slightly above the international average in science, and slightly below average in mathematics. The test showed that 30 countries scored higher than U.S. students in math, and that the performance gap between top-performing and lower-performing students was widening. Due to the performance of students from the U.S., science and mathematics departments across the country are desperately in need of passionate and well-trained staff, who can help improve current ability levels and lessen the gap between high-performing and lower-performing students.
When it comes to special education teaching, the demand for teachers stems from the fact that 7.3 million students across the U.S. now receive special educational services under the Individuals with Disabilities Education Act (IDEA). This has risen from 6.5 million in 2009-10 and means that demand for special education teachers has never been greater.
The need for language specialists stems from the fact that around 22% of students in every public school classroom speak a language besides English at home. Plus, the number of U.S. residents who speak a language other than English at home has more than doubled since 1980.
Although these are the most in-demand teaching subjects, the shortage of teachers affects every part of the profession, from prekindergarten to grade 12.
Supporting these students is driving the need for teachers of English as a second language (ESL) and for English language learner (ELL) teachers. In particular, these teachers are required to support the 38% of people who speak another language at home and who struggle to speak English.
Although these are the most in-demand teaching subjects, the shortage of teachers affects every part of the profession, from prekindergarten to grade 12. This is due to factors such as population growth: between 2014 and 2026, total public school enrollment in prekindergarten through grade 12 is projected to increase by 3%. Another factor is the reinstatement of classes and programs that were cut or reduced during the Great Recession of 2007 to 2009, when nearly 300,000 teachers and other school employees lost their jobs.
Allied to this, a number of teachers are leaving the profession by transferring to another sector or exiting the labor force entirely through retirement. Although many who have left teaching jobs in the past year cite the COVID19 pandemic as a reason for this, studies show that stress and insufficient pay were also factors.
Although it's good to know which subjects are experiencing teacher shortages, we also need to take a detailed look at the states with the highest demand for teachers. This way, you can analyze the strength of the job market near you, or in areas you'd consider moving to.
In 2016, the Learning Policy Institute warned of a 'coming crisis in teaching' that would affect the entire country. However, each state experiences supply and demand differently. This is because the labor market at a state level is affected by factors such as:
funding levels and allocations
salary levels
teaching conditions
demographics of the teaching force
concentration or sparsity of the population
concentration of preparation institutions
Demand for teachers by state fluctuates and even when the labor market is balanced overall, individual states may be prone to shortages. For example, according to the Learning Policy Institute, while Oklahoma's teacher demand projections were only slightly higher than their annual supply in 2016, California's teacher shortages in the same period saw demand for new teachers outstrip supply by more than 25%. 
Currently, the 5 states with the highest demand for teachers are:
1. California
According to the U.S. Department for Education, California reported shortages for the following subjects in the 2020-21 school year for all grade levels, including prekindergarten:
language arts
mathematics
core subjects
science
This problem may also be worse than it appears. Currently, it's estimated that nearly 14,000 teachers in the state are working with substandard credentialing, according to the Learning Policy Institute.
To help counter the teacher shortage, the state has allocated around $200 million of funding since 2014. This includes setting aside $45 million to help existing school staff become credentialed teachers. An additional $10 million has been spent starting new undergraduate programs for teacher education.
California has also incentivized teachers to relocate. While the average classroom teacher salary nationwide is $65,090, California teachers earned a median yearly wage of $84,531 in 2019-20, according to figures from the National Education Association. This made teachers in California the second-highest paid in the country.
2. Nevada
The rural nature of Nevada and its low population density add difficulty to finding exact vacancy numbers for the state. This is particularly true because many counties resort to 'flexible' hiring practices.
In 2021, the Clark County School District reported needing an additional 400 teachers. The shortage left nearly 12,000 students without a permanent teacher.
Nevada's teacher shortage spans all grade levels and subjects. However, the state reported the most shortages in middle and high school subjects, such as science, computer programming, and world languages.
To combat the issue, the state is looking to improve pay and provide support systems to existing teachers via mentoring networks. Many further improvements are also considered at the state's Annual Summit on Nevada Education, which is now in its seventh year.
3. Washington
Washington has thousands of people working in classrooms who have not completed their teaching credentials. In 2019, it was estimated that the state had 9,000 emergency-certified teachers operating.
To help recruit more teachers and solve the shortage of qualified teachers, the state has been working on diversifying the teaching workforce and has implemented pay hikes. This was driven by a court-ordered infusion of cash into the state's K-12 budget.
4. Arizona
At the start of the 2020-21 school year in Arizona, almost 800 teachers resigned from their post, abandoned their jobs, or did not show up for work. Almost half of these cited the pandemic as their main reason for leaving the profession.
Note that the state was already experiencing shortages before this point. In January 2020, Arizona had more than 1,800 vacancies, with many of these in special education classes for grades K-12. Due to the pre-existing shortages and the impact of the pandemic, many of these vacancies remain unfilled and others have been filled by teachers who are not fully qualified.
To solve the problem, Arizona has also launched teacher mentoring programs and has created a fast-track certification program that can be completed in 9 months. The state is also waiving tuition and fees in exchange for a commitment to teach in an Arizona public school.
5. Hawaii
In Hawaii, the school system experienced a shortfall of 1,029 qualified teachers in the 2018-19 school year. The state also ranks first in the country in teacher turnover rate, and its percentage of uncertified teachers is nearly twice the national average.
As a result, the state is encountering problems filling specialist teaching positions for grades 6-12, with teachers of world languages and technical education teachers particularly in demand.
To counter the issue, Hawaii has begun to offer salary boosts ranging from $3,000 to $10,000 per year for certain hard to fill teaching positions.
Although these are the states with the highest demand for teachers, the problem is a national one. Now, the Economic Policy Institute projects there will be demand for approximately 300,000 new teachers nationwide and a supply of just over 100,000 trained teachers by 2024.
How pay compares across the country
For 2019-20, the average starting salary for an educator was $41,163, according to the National Education Association. This represents a considerable rise from a decade earlier, when the average starting salary was only $34,629.
However, when looking at classroom teacher salaries specifically, we see a different picture. For the 2020-21 school year, the National Education Association estimated that the average national classroom teacher salary was $65,090. This was only a 0.9% increase over the past decade, when adjusted for inflation.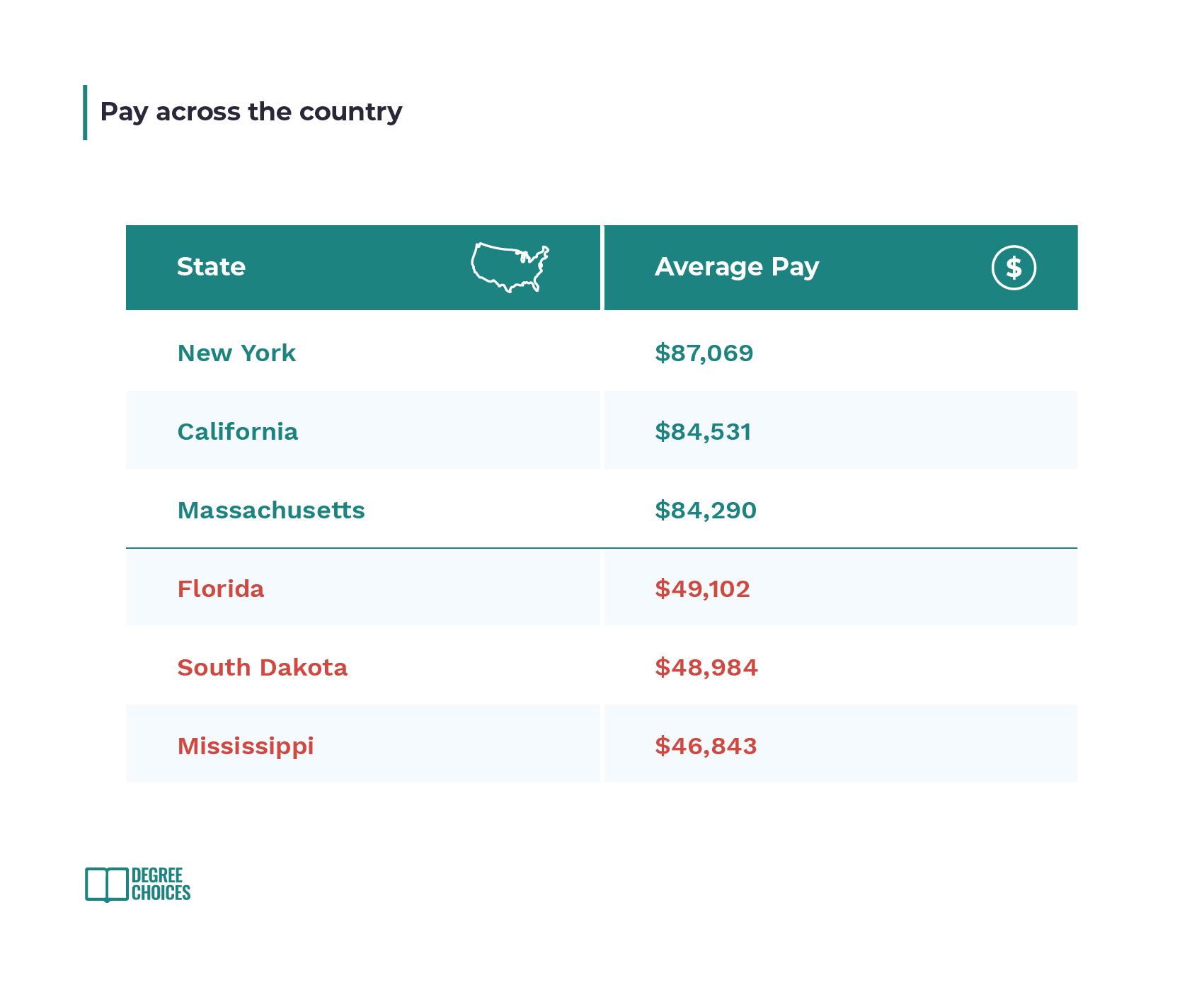 On the state level, it's also clear that there's a large discrepancy in teacher pay. The top 3 states for average teacher salaries in 2019-20 were:
New York – $87,069

California – $84,531

Massachusetts – $84,290
The 3 states with the lowest average teacher salaries were:
Mississippi – $46,843

South Dakota – $48,984

Florida – $49,102
Surprisingly, of the states with the highest number of vacancies, only California ranks in the highest-performing states in terms of average salary.
Future-proofing your career – predicted teacher shortages by 2030
Looking to the future, President Biden has pledged $9 billion to address the current shortage of teachers. The American Families Plan will provide funding to train, equip, and diversify the nation's teachers. Although it is hoped that this will end the acute shortage, the projected number of people who will leave the profession in the coming years due to retirement and pandemic-related reasons far exceeds the number of students currently pursuing teaching preparation programs.
Consequently, further teacher shortages are predicted and demand for teachers will remain high and potentially worsen. The Economic Policy Institute predicts there could be 200,000 open teaching positions by 2024.
Since this report was issued, the COVID19 pandemic has compounded the shortage of teachers.
Since this report was issued, the COVID19 pandemic has compounded the shortage of teachers. This is because the pandemic heightened stress levels among teachers and class sizes have risen, negatively impacting workloads. Currently, as many as 1 in 4 current teachers are looking to leave the profession. As a result, the current shortage of special education, mathematics, science, foreign languages, and ESL teachers appears set to continue. 
That said, because a number of incentives such as tuition-free programs, higher salaries, and improved support systems are in place, now is undoubtedly a great time to get into teaching. As well as providing the children of America with a solid education, you can also secure a future-proof career that will genuinely make a difference.