Studying psychology: 38 statistics to know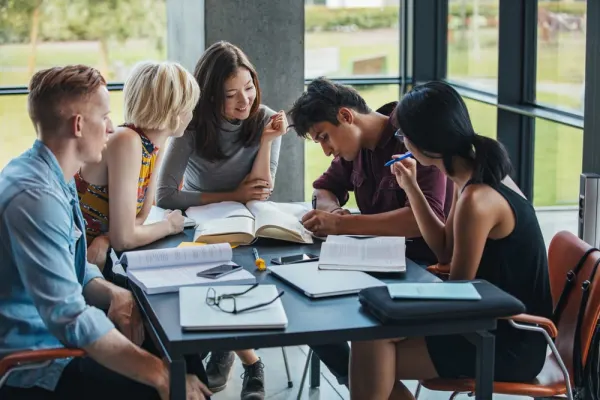 Psychology is the study of the human mind, including behavior, feelings, and mental states. The word "psychology" comes from the Latinized Greek words psyche (breath, spirit, or soul) and logia (study of). Psychology is consistently one of the most popular majors at the undergraduate level. A bachelor's in psychology can be a great first step towards a career as a psychologist, but you will need at least a master's degree to become a licensed psychologist.
To help you determine if this educational path is for you, we've compiled 38 insightful statistics about majoring in psychology, going to grad school for a psychology program, and pursuing a career in psychology.
Is psychology a good major?
A bachelor's in psychology is a popular and versatile degree. It can be the starting point on the long educational journey to becoming a psychologist, or can set the foundation for continuing on to a graduate program in a related discipline like social work, teaching, or counseling. It's worth noting that majoring in psychology is not required for entering a doctoral psychology program, although it can be good preparation.
What can a psychology major do after college?
A bachelor's in psychology is a very versatile degree in terms of what type of work you can do after graduation. The careers pursued by psych grads range across 88 out of 129 occupation categories. However, you will need to go to graduate school and get licensed if you want to become a psychologist.
Why study psychology at the master's level?
A master's degree is typically embedded into the first 2 years of a PsyD or PhD in psychology. Therefore, a standalone master's in psychology only makes sense if you do not plan to do a doctorate in the field. The 2 main careers with a master's in psychology are industrial-organizational (I-O) and school psychology, although 51.9% of I-O psychologists and 35.6% of school psychologists have a doctoral degree.
Do you need a doctorate to be a psychologist?
While you can become an I-O or school psychologist with a master's degree (see above), the educational path to a career as a psychologist usually culminates in a Doctor of Philosophy in Psychology (PhD) or Doctor of Psychology (PsyD) degree. Through doctoral studies, would-be psychologists acquire research and field experience while they train in their specific area of interest.
This degree involves a tremendous commitment of time and energy. As such, a level of passion for the field is essential. Wanting to know why someone does or thinks the way they do, and how this process can be adapted to improve quality of life, is at the essence of what psychologists do. Even research psychologists, removed from the clinical setting, have an underlying fascination with brain processes and want to understand what's behind a certain response or reaction.
Between 2008 and 2017, the number of psychology doctorates awarded grew by 25%, from 5,524 to 6,915. (APA Master's and Doctoral Degrees Awarded in Psychology Report)
In 2017, 55% of doctorates in psychology were awarded in health service psychology, while the remaining 45% were awarded in research psychology. (APA Master's and Doctoral Degrees Awarded in Psychology Report)
Forensic psychology is the fastest-growing doctoral field in psychology. Between 2008 and 2017, the number of doctoral degrees awarded in this field grew by 441%. (APA Master's and Doctoral Degrees Awarded in Psychology Report)
The percent of psychology doctoral programs requiring GRE scores decreased by about half between the 2019–20 and 2020–21 academic years, dropping from 92% to 45%.
According to data from 2017, 75% of psychology doctorates were awarded to women and 69% were given to individuals who identify as white. (APA Master's and Doctoral Degrees Awarded in Psychology Report)
The number of psychology doctorates awarded to individuals from racial/ethnic minority groups grew rapidly between 2008 and 2017, increasing by 63%. (APA Master's and Doctoral Degrees Awarded in Psychology Report)
Is psychology a good career?
Becoming a psychologist can be a fulfilling and rewarding career. According to the Bureau of Labor Statistics, the employment of psychologists is projected to grow 6% from 2021 to 2031, which is about as fast as the average for all occupations.
Additionally, the median annual wage for psychologists in 2021 was $81,040, with the top 10% earning more than $133,890 per year. With a diverse range of specializations within the field of psychology, there are numerous opportunities for individuals to find a career path that aligns with their interests and passions.
Final thoughts
The field of psychology offers a diverse range of career opportunities and can be a highly rewarding career choice for those who are passionate about understanding human behavior and improving mental health.
Some specializations you can consider include:
The statistics we've discussed demonstrate that there is significant demand for psychologists in the United States, and the earning potential is competitive. With continued growth projected for the field, those who choose to pursue a career in psychology can expect a dynamic and fulfilling professional life.
Whether you're interested in clinical work, research, or education, the field of psychology has something to offer. So, if you have a passion for understanding people and want to make a positive impact on the world, psychology may be the perfect career path for you.
FAQs about psychology careers 
Is a psychologist a therapist?
Psychologists can call themselves therapists, and may choose to do so if they offer therapeutic services to patients or clients in private practice. The term 'psychologist' is typically reserved for someone who has completed a doctoral degree in psychology. It's possible to become a therapist without a psychology degree.