What's the difference between B.A and B.S?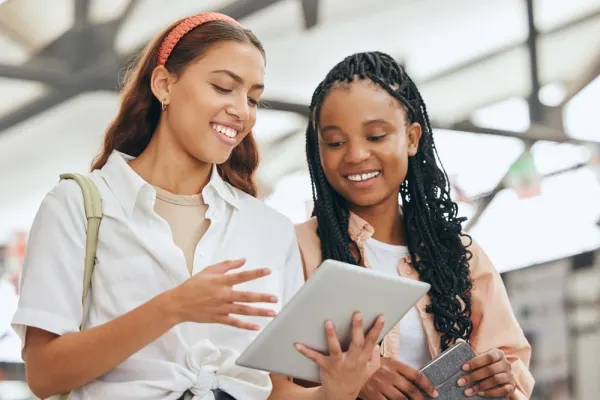 As you investigate your undergraduate degree options, it is important to note that the words "art" and "science" in degree titles can be deceiving. "Art" does not refer only to the fine arts but instead encompasses all the liberal arts – which includes history, sociology, philosophy, literature, and much more. The "science" in a Bachelor of Science could be any of the STEM fields, including engineering, mathematics, and technology.
To make matters even more complex, the Bachelor of Arts (BA) degree is not limited to liberal arts subjects, and the Bachelor of Science (BS) is not restricted to STEM fields. Many universities offer both BA and BS programs in the same field. In this article, we'll explore the differences between BA and BS degrees to help you decide which path is best for you.
What is a Bachelor of Arts degree?
A Bachelor of Arts (BA) is 3–4 year undergraduate program that requires students to complete general education coursework, choose a major, and take a broad range of elective courses. BA degrees are most common in the humanities and social sciences.
BA curriculums are often built around the traditional liberal arts model, which seeks to provide a well-rounded education with a focus on expanding students' general knowledge and cultural awareness as well as their communication, writing, and critical thinking skills. BA programs are therefore more flexible in terms of course selection.
KEY TAKEAWAY
A BA tends to offer a broader education than a BS, with more opportunities to explore electives outside of your major.
What is a Bachelor of Science degree?
A Bachelor of Science (BS) degree is a 4–5 year undergraduate program often focused on STEM subjects and other fields requiring technical skill or a research-centered approach. Popular examples include engineering, biology, and computer science, but some non-STEM degrees are also available as BS programs.
What is a Bachelor of Applied Science?
The Bachelor of Applied Science (BAS) is a 4-year vocational degree, most often available at trade schools and community colleges.
BAS students frequently already have an associate degree or professional experience in their field of study. The degree is common in highly specialized and skills-oriented disciplines such as allied health and technical/industrial fields.
KEY TAKEAWAY
BS degrees are most common in STEM fields, though some exceptions exist. A BAS is a vocational degree offering professional training in technical fields.
BA vs BS: What's the difference?
The most measurable difference between a BA and a BS is in average credit hours required to earn a major – usually around 36 for a BA and 54 for a BS. This leaves a lot more room for electives when getting your BA – about 28 credit hours, compared to just 12 for the BS. In essence, BA degrees are less specialized, but allow you to explore a broader range of subjects.
Because of its focus on providing a well-rounded education, anywhere from a third to a half of your BA program will be made up of general education (Gen Ed) classes. This usually includes at least one English composition class, as well as history, literature, and usually one math and one science requirement.
BS programs provide more specialized or intensive education focused on your major. Research and hands-on laboratory experience are often an important part of your studies. BS programs also include Gen Ed classes, but usually fewer than in a BA program, and with more of a focus on quantitative reasoning skills.
Bachelor of arts vs science
Still confused about which undergraduate degree is the right choice for you? Review the basic differences below.
Bachelor of arts
usually arts and humanities focused
offers a broader general education
more opportunities to expand outside your major
emphasizes critical thinking and communication skills
3-4 years
Bachelor of science
usually STEM focused
offers a more focused education
more research opportunities
emphasizes quantitative reasoning
4-5 years
Should I get a BA or BS?
In many subject areas, this is a no-brainer – engineering majors usually earn a BS while English majors earn a BA. However, in the fields discussed below, both options may be available at the same school.
Psychology: BA vs BS
Psychology is one of the most common subjects to have both a BA and a BS degree offered at the same school. If you want to go on to grad school and become a psychologist, the BS has a narrower focus and more math and science classes and will better prepare you. A BA in psychology is a good choice if you're interested in pursuing psychology-adjacent careers like social work, counseling, or marketing.
» Read: The best psychology bachelor's programs
Computer science: BA vs BS
The main difference is that a BA in computer science (CS) allows for more electives, making a double major or minor in addition to your CS major more manageable. The BS is a better choice if you want to specialize in a certain CS field and take more technical classes. Keep in mind too that a BA may not be accredited by the Computing Accreditation Commission of ABET.
Economics: BA vs BS
While both tracks offer foundational knowledge in macro and microeconomics, a BA is more likely to cover the history of the economy and other theoretical concepts, while a BS would focus more on statistical analysis and math. If you plan on going to grad school and/or pursuing a career in quantitative finance, the BS may be more suitable.
Biology: BA vs BS
The first 2 years of a BA and BS in biology look very similar. After that, BS students focus more on biomedical or biological science, providing a good foundation for medical, veterinary, or dental school. BA students take broader subjects in preparation for a more person-oriented career path like nursing, physiotherapy, or pharmacy.
Criminal justice: BA vs BS
Both a BA and BS in criminal justice can lead to opportunities in law enforcement, security, criminology, and corrections, but the BA allows for more flexibility if you are unsure of your future specialization. A BS focuses more on specific subspecialties like investigation, forensics, or security management. Because of their vocational focus, BS programs in criminal justice are usually offered at community colleges and technical schools.
Business administration: BA vs BS
Business administration as a discipline sits at the intersection of the arts and sciences. Both a BA and a BS in business can prepare you for an MBA, but the BA is better preparation for future entrepreneurial roles, and the BS better for technical leadership roles. BA career paths are likely to include people-facing roles in fields like marketing, human resources, or consulting. The technical and analytical skills learned in a BS program, on the other hand, can lead to careers in financial analysis, research analysis, or sales.
» Read: The best business administration bachelor's programs
Final thoughts
If both a BA and a BS are offered in your subject of choice, consider which approach suits you better. A Bachelor of Arts usually offers a broader look at a discipline, examining the social, historical, and theoretical context. The opportunity to take many electives can also result in a more well-rounded education. Bachelor of science programs, with their emphasis on quantitative skill and reasoning, provide better technical training, more opportunities to specialize, and may be better preparation for STEM grad programs.