Guide to touring and starting college with a disability: How to prepare for campus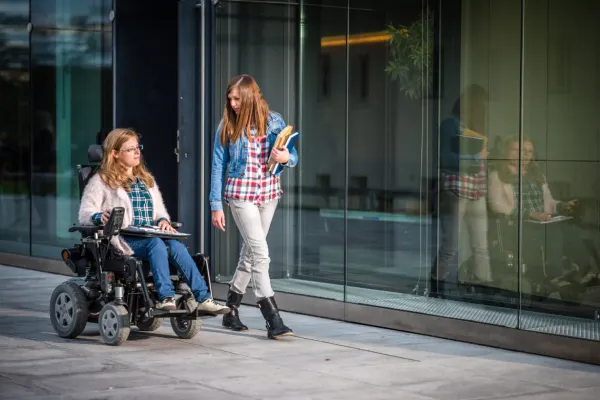 Horace Mann famously referred to education as the "great equalizer," but he wasn't referring to the vast campuses that house hallowed halls of higher education. In fact, college campuses are almost anything but equalizers: some encompass hundreds if not thousands of acres, lack adequate transportation options, and host buildings built prior to modern accessibility standards.
All of this begs the question: how should students with disabilities prepare for college tours and student life on campus? Campus visits are a staple for many in the decision process as they narrow down their choices. These visits are crucial because they provide a look at what campus life is really like and if they align with you — for example, if you're interested in the most progressive college programs.
For students with disabilities, campus tours may involve a little extra preparation to avoid accessibility barriers. If anyone in your community has experience navigating a college campus, it might be a good idea to ask them for advice, too.
Read on to get the lowdown on how to prepare for a college tour as a student with a disability. We'll cover questions you should ask before scheduling a tour, plus we sourced tips from four experts who know just what you need to plan for the perfect campus visit.
Please note: Every disability is different and no solution is one-size-fits-all. The tips below aim to broach different aspects of accessibility — though we encourage students to get connected with the university to ensure accommodations are properly made before a visit.
4 tips for prepping for a campus visit as a student with a disability
Sometimes it's best to listen to the experts. We asked for advice on behalf of students with disabilities who are preparing to leave for college. The following 4 tips reflect these experts' opinions.
1. Advocate for your individual needs
As a student with a disability, it's critical to advocate for yourself in the event you don't have a guardian or ally present.
Christopher Pappas, founder and CEO of eLearning Industry, believes that self-advocacy is crucial to enjoying college to the fullest:
"If you have unique needs (sign language interpreter, audio system, big print, digital copies of materials) to be able to participate in the tour, be sure to request [these] in advance."
2. Be honest about what you require
While you might be inclined to fly under the radar, it's important to inform a school before committing to a tour. This allows for an honest look at the accessibility of a particular campus and also helps the school administration prepare accommodations.
Robin Brooks, Ph.D., is an assistant professor at the University of Pittsburgh. She recommends planning ahead in as much detail as possible:
"People with disabilities have a right to tour colleges safely. Prospective student visitors must be prepared to disclose enough information to the office about the nature of the disability to ensure they receive the best preparation arrangements for their visit."
3. Rely on your community (and technology)
No matter how big colleges can be, they can foster a tight-knit sense of community among their students. When planning a tour, it can be helpful to include your community in the process. Even if they don't tour with you, they can be a valuable source of insight and support.
Additionally, look to technology as an asset that can help you make the most of your tour and your life on campus.
Fred Standil, a student support advisor for Herzing College, believes your network is a big factor in measuring the success of your tour:
"Be sure to include your support team in the process. That may include parents, siblings, partners, and the like. Another way to manage your college tour is by taking advantage of technology. A platform like Zoom or Teams [can] save you some time and effort."
4. Think ahead to your career post-college
Before starting out on a college adventure, it can be difficult to imagine what post-college life looks like. Unfortunately, people with disabilities have the highest unemployment rate among groups of people in the United States.
Dr. Sharon McLennon-Wier, Ph.D., MSEd., CRC, LMHC, is the executive director for the Center for Independence of the Disabled in New York. They believe career prep is a crucial pillar of getting ready for a college tour.
"Most people with disabilities are unemployed or under-employed. Thus, selecting a degree program that will enable you to find and keep a job is especially important."
What should I know before getting to campus? Important questions to ask
Regardless of your needs, there are several general questions to ask in advance of planning a visit.
These include:
Are there any forms required to gain access to disability services? If so, where can I find a list of requirements?
Where is the disability services office located? What hours is the office open? How do I access the office? Do I need an appointment or does the office accept walk-ins?
Colleges are not bound by the same laws as high schools when it comes to identifying and accommodating students with disabilities. Before you schedule a visit, it's important to make sure that the school you'd like to attend has adequate measures to accommodate your needs on campus.
Specific questions about accessibility accommodations
As soon as you decide you'd like to schedule a campus visit, reach out to the school and communicate your needs.
If you're unable to draw clear answers to the following questions from a university representative, it may not be worth planning an actual visit. If you feel you're being discriminated against or that the institution is disregarding your rights, you can escalate the situation with the following steps:
Submit a formal complaint or appeal to either the disability resource center or the dean of students, or both.
Submit a formal complaint with the Office of Civil Rights through the Department of Education.
Submit a formal complaint to the Department of Justice.
File a lawsuit under the Americans with Disabilities Act (ADA).
Generally, both public and private universities are required to maintain compliance with the ADA and provide equal access to students with disabilities.
Is the admissions office accessible?
Consider the questions below before scheduling a campus tour to make sure your needs are met:
Does the building have a ramp to enter, and if so, where is it?
How do I get to the office I need once I'm inside the building?
Are there any accessibility improvements underway but not yet completed?
Some college administrative and admissions buildings are among the oldest structures on campus. While many have been retrofitted with measures to up their accessibility, this isn't true of all admissions buildings. Make sure the school's admissions office is easily accessible to all students before you go on a tour.
Is the campus tour itself accessible?
The college admissions process is competitive enough, and prospective students shouldn't have to face further obstacles during this process. It should be a basic expectation that the college tours schools offer are open and accessible to any prospective students.
Think about the following questions when choosing schools to tour:
Can I download pamphlets, maps, or audio guides in advance of the tour? If not, can I access part of the tour via Zoom?
Do tour guides receive training to navigate accessible routes around campus?
Is video content a component of the tour? If so, are videos captioned?
College campuses can be enormous. Some span thousands of acres, like Berry College in Georgia, which clocks in at an immense 27,000 acres. For some students, conquering endless landscapes to make it to class on time can be a challenge.
With large college campuses, visits can entail lots of walking, plus meetings and activities on different floors of various buildings. Check with the school to see if their tour has a pre-planned route and if guides are aware of various accessible routes around campus. Also, note the length of the tour and whether you need to bring any food or medications with you.
How will I be able to find the buildings and classrooms that I need?
There may be extra precautions to consider before booking a tour to make sure you are able to comfortably navigate campus.
Think about the following questions as you plan which campuses to visit:
Do campus streets and crosswalks have accessible pedestrian signals?
Are campus sidewalks easily navigable? Are they in good condition and not broken or cracked?
How much construction is active on campus, and how are construction areas marked off?
Universities don't always have smooth sidewalks or accessible pedestrian signals for students to safely navigate around campus. Ask what accommodations the school already makes to help students find their classrooms, dorms, and more. As a bonus, see if you can sit in on a class (or several) to get an idea of what the learning environment is like.
How are accommodations handled?
If your college visit includes an overnight stay, plan to learn about housing accommodations before making the trip. For a student with a disability, it's the school's responsibility to make sure housing needs are met, whether that's an accessible room, a private bathroom, or anything else. This includes on- and off-campus housing opportunities.
You can ask the following questions about housing ahead of your tour.
Is accessible housing an on-campus focus, or do I need to seek off-campus housing?
What accessibility accommodations are present in existing housing options?
Are there any resident advisors trained in accessibility accommodations?
If accessible housing isn't located on campus, make sure off-campus housing has a free shuttle service available for students with disabilities so you don't need to compete with other students for buses or other transportation.
What health care options are available to me on campus?
You shouldn't need to attend a college with a medical school to find adequate health care options on campus. Ask a tour administrator to detail all options available to you, including general practitioners, specialists, and mental health professionals.
Ponder the following questions about health care at the university you wish to tour.
Am I able to access care and support from qualified medical providers with relative ease?
Is there a pharmacy on or near campus available for students to use?
Can medications and similar health care-related items be delivered directly to dorms? If not, where can they be collected safely and securely?
In times of stress (like finals), you may thank yourself for planning ahead. In addition to finding out where the available medical services are, ask which personnel on campus are trained to assist people with disabilities.
College tours are a unique and important step in the college selection process. Each campus has specific benefits and drawbacks, and every student has unique needs that may not be met by every campus.
The list of questions above is a launchpad for investigations into college tour practices before you schedule your first visit. As you start scheduling campus tours, check out our interactive top college rankings to help sort through various options.