How to read a financial aid award letter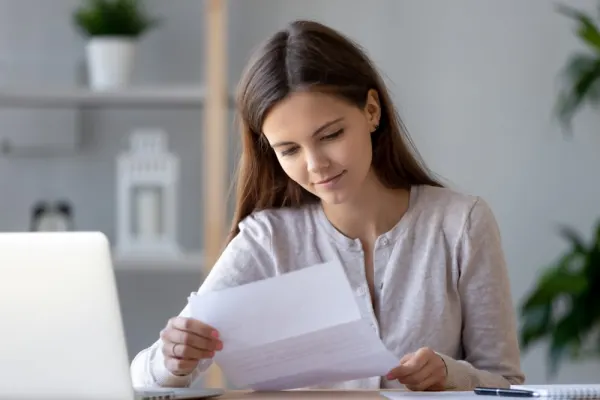 You've completed the college application process and are eagerly awaiting your acceptance letters. Now what? If you've filed the FAFSA, each school that gives you an offer will send you a financial aid award letter, either along with, or shortly following your offer of admission.
Award letters can be difficult to decipher. In this article, we'll help you break them down so you can know exactly what different schools are bringing to the table in real financial aid dollars.
What is an award letter?
Financial aid award letters detail the total amount of monetary assistance that a school is offering you to help pay for tuition and other study costs. These letters also list loans and work-study programs you qualify for, which means not everything listed in your award letter is "free money".
How schools calculate their aid offers
College financial aid offices use the information you provided on your FAFSA as well as the following information to determine how much aid you're eligible for:
the school's COA (cost of attendance)
your EFC (Expected Family Contribution)
In the 2023-24 award year, EFC will be renamed Student Aid Index (SAI) to clear up frequent confusion as to its meaning.
In simplified terms, the calculations they use to determine what government financial aid you are eligible for are as follows:
COA – EFC = need-based aid
(Pell Grant, Supplemental Educational Opportunity Grant, Direct Subsidized Loan, Federal Work-Study)
COA – financial aid you've already received = non need-based aid
(Direct Unsubsidized Loan, Federal PLUS Loan, TEACH Grant)
Be careful not to confuse need-based aid with free money. Some types of need-based aid are free money – this includes Pell Grants. Other types, like direct subsidized loans, are need-based but must nonetheless be paid back. Work-study is also considered "need-based" but is money you receive in exchange for working.
» Read: Alternative ways to pay for college
You may also be offered scholarships or other school-based forms of financial aid. Colleges use their own naming systems for their scholarships and grants. These often have a prestigious ring to them and are named after specific donors or the area of study with which they are associated. However, these names are mostly marketing wiles to make you feel accomplished for receiving a financial award (which you should!) They can be confusing, so here we show you how to decode them and understand the differences between sources and types of financial aid.
Components of a financial aid award letter
While there is no standard format for award letters, they all contain the following components:
free money
work-study money
loan money
Free money
This is money that you don't have to repay and may be referred to as gift aid. It usually comes in the form of grants, scholarships, and award. Gift aid may include both need-based aid that you receive as a result of your FAFSA (calculated as shown above) and merit-based aid that you receive on the basis of all the great things you have accomplished so far as a student. Merit-based scholarships may be awarded by your school, state, employer, or other sources. FAFSA-based aid is usually listed under "grants". You may see Pell Grants, institutional grants, state grants, and "other forms of grant aid" listed in this section.
» Read: What are Pell Grants?
Work-study money
The "work award" component of your financial aid package is the maximum amount that you are allowed to earn through the Federal Work-Study Program. The main benefit of earning money through this program versus a regular job is that your earnings won't count towards your expected family contribution, meaning they will not negatively affect your financial aid eligibility for the following year.
The amount listed as your federal work-study award is not guaranteed – you will need to first find employment and will receive the funds in paychecks as you would with any other job. A higher "work award" just means you are allowed to work and therefore earn more through the program. Additionally, there is no guarantee that you will find a work-study position. Note that some schools do not participate in the program, in which case work-study money will not be listed in their award letter.
» Read: Great jobs for college students
Loan money
Most schools list student loans under financial aid awards, usually at the bottom of the award letter. Loans and work-study are sometimes grouped together as "self-help aid".
Loans come in the form of:
direct subsidized loans (sometimes referred to as Stafford loans)
direct unsubsidized loans
direct PLUS loans
direct consolidation loans
Some schools list private educational loans in their award letters. If you see them offered by one school but not another, don't worry – these loan programs are available at every college regardless of whether they pre-package them in your financial aid award or not.
» Read: What are the differences between subsided and unsubsidized loans?
Understanding the financial aid award letter
Use the following quick method to help you decipher your financial aid award letters:
Cross out each financial aid award package listed, line item by line item (leaving the dollar amount).
Replace the given award titles with the words free, work, or loan.
Tally the totals for each of these components to get a truer sense of what each school is offering.
For example, let's say your financial aid package from the fictional Linden University looks like this:
$18,500 – Presidential Scholar Award
$5,500 – Smart Alumni Scholarship
$2,000 – Board of Directors Grant
$1,000 – Degree Choices Engaging Student Award
$3,000 – John C. Bright Work-Study Program
$3,500 – Direct Subsidized Loan
$2,000 – Direct Unsubsidized Loan
$1,500 – Jane Moore University Loan
The total award from Linden University appears to be $37,000.
However, this is how the award looks after a little Sharpie magic:
Or:
$27,000 in free money
$3,000 in work money
$9,000 in loan money
Go through this process for each of your financial aid awards for a more realistic comparison between offers. You will still need to factor in your actual costs, as each school is going to have different prices for tuition, room, and board. Additionally, miscellaneous fees at schools can vary drastically and add thousands of dollars to your bottom line over 4 years.
» Read: Guide to need-blind admissions
How to calculate which financial aid award letter offers the most benefit
Use the following formula to help you calculate which school is offering the most beneficial financial aid package:
(Tuition + Room + Board + Fees) – (Free +Work + Loans) = Family Contribution (from savings, discretionary income, or otherwise)
More importantly, you can use the following calculation to estimate how much total out-of-pocket expense you are looking at. Keep in mind that all loans come with interest, which means additional cost, though some offer better terms than others. You do not need to pay interest on subsidized federal loans until you are 6 months out of college.
(Tuition + Room + Board  + Fees) – (Free) = Total Family Contribution (including loans and work study monies earned by student)