Tips and strategies to ace a scholarship interview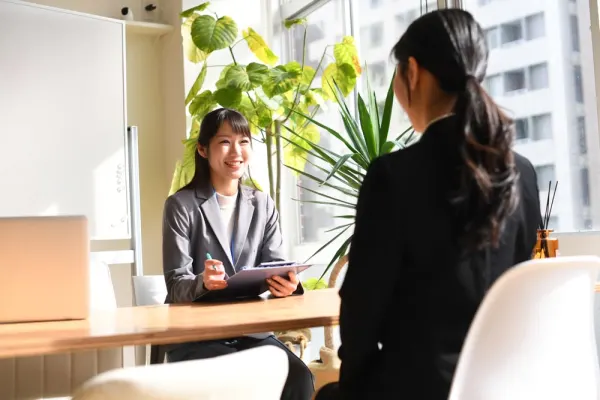 Whether you're in line for a full-ride scholarship or one that covers essential expenses, getting a scholarship interview is a major achievement. But you might want to delay the celebrations a little longer, because going in underprepared could leave you empty-handed.
Making it to a scholarship interview means the board has noted your ability to write a good scholarship essay and you're past the gatekeepers. Now your goal is to present yourself as the intelligent, mature person they envisioned when they read your application.
You also need to demonstrate a little extra something to show that you are more deserving of the scholarship than the remaining candidates. Use the following interview tips to ensure you ace your scholarship interview.
How to prepare for a scholarship interview
Hopefully you honed your research skills when choosing colleges to apply to, because these are also key to preparing for a scholarship interview. Do your research properly and you can minimize surprises. The aim is to anticipate what you might be asked so that your answers convince the panel you are deserving of the scholarship.
While there are some similarities with preparing for a job interview, a scholarship interview panel may be looking for slightly different character traits and answers, so it is important to prepare thoroughly by completing the following steps.
Research the individuals or organizations behind the scholarship
During the scholarship application process, you probably researched the scholarship to make sure you met the requirements. Now it is time to take that research to the next level. Leave no stone unturned. Your aim is to become as familiar with the scholarship as the interviewers themselves.
Is this a scholarship in a specific profession? Is it related to your major? Who founded it? Who runs it? Have previous recipients gone on to do anything notable? The more you can show that you understand who they are – the more impressed they are going be.
Prepare your backstory for scholarship interview questions
This is similar to the above tip, but it focuses more on your beliefs and morals than on facts and figures. Why is this so important? Well, one of the reasons that interviews of any kind are so difficult is that we are required to speak intelligently about ourselves, something most of us just aren't used to doing.
Interviewers are likely to ask you several different logistical questions. Some of these will be background questions – things such as your work and school experience, where you ranked in your class, your GPA, and what awards you won. They may also ask future-focused questions related to your study and career plan or your projected expenses in school.
If you plan to attend college as a mature student and are being interviewed for a non-traditional student scholarship, there may be less of a focus on your educational background. Instead, plan for questions about your family, what you have been doing since you last attended school, the lessons you learned during this period, and why you have decided to return to school now.
How to dress for a scholarship interview
Interviewers only have a certain amount of time to decide what type of person you are. Like it or not, your appearance is a shortcut to making that decision, so consider carefully what you are going to wear to your scholarship interview.
It is better to be overdressed than underdressed, so our advice is to suit up. Both men and women are advised to opt for business-casual attire. This demonstrates you are professional, mature, and have gone the extra mile for the interview. The only exception is if the interview invite includes specific details about what to wear – for example, some might ask you to dress casually. Even then, air on the side of the caution and dress toward the more formal end of the scale.
Be punctual, positive, and above all – polite.
When considering how to dress for a scholarship interview, also pay attention to grooming. Cut your fingernails, wash your hair, scrub behind your ears, etc.
Presentation and manners
You can look a million dollars and expertly answer all the questions, but if you come across as rude, that is all an interview panel will remember. Be punctual, positive, and above all – polite.
How to behave during a scholarship interview
Tailor your behavior in the following ways to present the best version of yourself at a scholarship interview.
Relax and try to find to shared points of interest
As much as it sounds like a cliché, these kinds of interviews really are all about the selection committee getting to know you. If you find yourself getting nervous, try to imagine that you are having a conversation with friends – or at the very least, with a teacher or guidance counselor you like. The goal is to build rapport and have a relaxed yet professional conversation.
The goal is to build rapport and have a relaxed yet professional conversation.
This is where learning about your interviewers ahead of time can come in handy. Maybe both of you like to ski or are fans of the same author. Bringing up these points can help you ease into the interview.
Be enthusiastic
One of the biggest mistakes that interviewees can make is to come across too stiff or casual about the scholarship, not letting their excitement shine through because they're too focused on the interview itself. Always remember that the interview is a means to an end, not the end goal itself.
Key points to cover during a scholarship interview
Remember to react to the interviewers' questions and not just recite a pre-prepared script. Ideally you'll cover the following topics, but you're more likely to lose the scholarship by not listening to the questions than forgetting to mention 1 of these things.
Sell the scholarship interview panel on your educational plan
If you want these people to provide financial aid for your education, you need to give them a good reason to do so and show that you've really thought everything out.
Be ready to talk about where you plan on going to school, what you want to study, how long it should take you to earn your degree, and what kinds of career opportunities a degree in your field might open up for you. If the organization has a particular mission plan on a societal level, do your best to explain how getting this degree can enable you to forward their agenda.
Show how you've been a leader
Most interviewers ask this question, but even if they don't, attempt to find a way to work it into the conversation. Articulating your leadership abilities is often vital to receiving a scholarship.
A great place to fit this into the conversation is when talking about the character-building extracurricular activities you have participated in.
Rather than listing the ten clubs where you have held leadership positions, limit yourself to 1 or 2 and speak about them in detail. Say why that club meant so much to you. Talk about things that you were able to accomplish and how that made you feel, such as earning money to go on a trip, or collecting enough food for charity to feed 100 families.
Remember that you don't have to hold a leadership position to be a leader. You can also mention a situation where you weren't the official leader but showed the qualities of leadership.
Describe what you've overcome
A great way to get people on the selection committee rooting for you is to show them that you've had to overcome adversity to achieve success. For some people, this might be obvious – you suffer from an affliction of some sort, have endured hardships based on racism or bigotry, or worked to overcome disparities based on your financial situation. Of course, not everyone has experienced those kinds of problems, but that doesn't mean you can't find something to talk about. Everything from the death of a loved one to being benched before the big game can be an example if you talk about it intelligently.
Typical scholarship interview questions
Be ready with good answers for prompts such as: "tell us about yourself", "describe your greatest achievement", and "name some strengths and weaknesses". You need to be able to paint yourself as a smart, charismatic person that is introspective enough to recognize the things you've done wrong and know how to learn from those experiences in the future.
10 common scholarship interview questions
Why did you choose to study this program over all the others?
What do you expect to do with your degree, both immediately after graduation and in 5 years?
What are you most looking forward to at college?
What might you struggle with at college?
How do you cope when you feel stressed?
What are we most likely to find you doing when you are not in school?
Can you give an example of a time you had to use your budgeting skills?
How do you plan to use the scholarship money?
What is your backup plan if you don't get this scholarship?
Why should we give this scholarship to you over the other candidates?
What questions should I ask in a scholarship interview?
The final question interviewers often ask is whether or not you have any questions. It's usually done in such an offhand manner that most interviewees just say no, happy to have survived an ordeal.
Unfortunately, this question ties in directly with how much you care about their organization and others in general, so it is worth answering just as carefully as any other question. Show that you've given some thought to the award and what it's really all about.
Some good scholarship interview questions to ask include:
What is the main objective of awarding this scholarship?
What does your ideal candidate look like?
Is there anything that I haven't mentioned today that you need clarity on to strengthen my application?
What have previous recipients of this scholarship gone on to do?
Does the scholarship include any post-graduation initiatives?
Are there any additional steps to complete beyond this scholarship interview?
Final thoughts on preparing for a scholarship interview
To give yourself the best possible chance of success in your scholarship interview, prepare well and see it as an opportunity to show the panel who you are and what you are capable of.
Don't panic if you are unsuccessful your first time, because there are always other scholarships available. And if these too are unsuccessful, it doesn't have to mean the end for your educational journey. Check out the other kinds of financial assistance available, or consider alternative ways to pay for college.